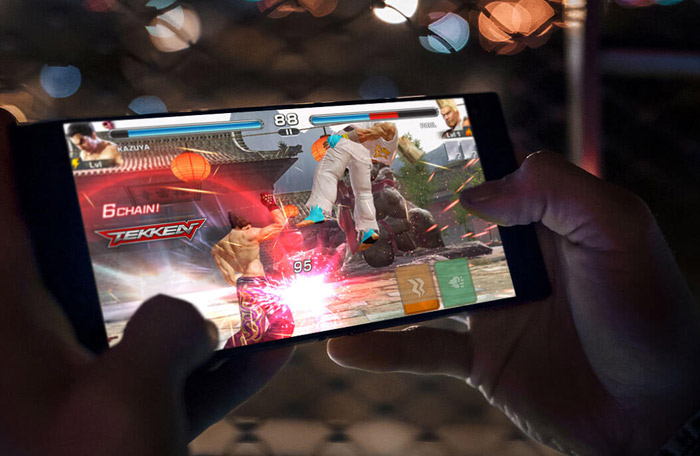 With mobile gaming growing at a number so big it makes my brain hurt… a new kid has arrived on the block!
His name? The dedicated gaming smartphone!
On a recent trip to Asia… I saw just how popular mobile gaming had become! In every coffee shop, shopping mall and just about anywhere with a high-speed WiFi connection you'd find packs of serious looking kids… necks bent at 90 degrees… with a look of hyper-focus on their faces…
Why? because mobile gaming has got so damn good in the last 2 years. Even your basic mid-range smartphone can handle a 3D FPS online multiplier game. So just imagine what a dedicated liquid-cooled smartphone can do!
Today's flagships smartphones play like last generations consoles, and they're only getting better!
Also, the vast increase of MOBA styles games has managed addict even the most unsuspecting casual gamer and turn them into bent necked adrenaline pumped touchscreen bashing enthusiasts!
All of the above leads us to the next conclusion. Why not just choose a normal high-performance smartphone?
I'll give you three reasons! Normal phones suffer from CPU throttling due to overheating. A dedicated gaming smartphone used liquid cooling to stop this.
Most smartphone speakers are mediocre at best. Dedicated gaming smartphones appreciate the need to immersive audio and often come with true forward firing dual stereo.
And finally, because heck why not!? At around the same price as their flagship counterparts, why not opt for an RGB flashing bonanza of a phone? Don't be boring!
So let's find out… What are the best dedicated gaming smartphones available right now!?
First off, to be classed a dedicated gaming smartphone, it'll need to have the latest in mobile graphics, be sporting a top-end mobile processor and finally have an epic (ideally 120Hz) mobile display.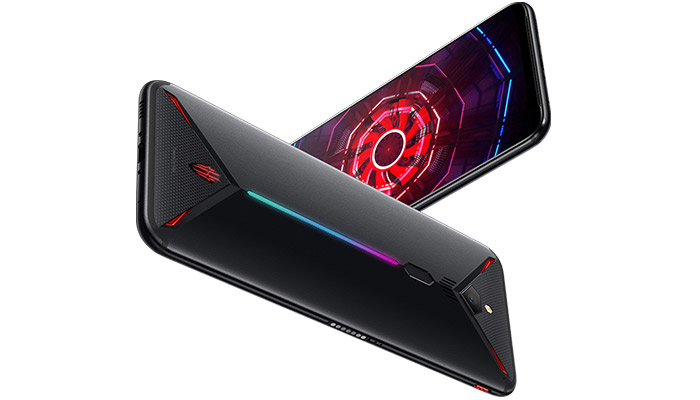 Nubia Red Magic 3
One giant leap for gaming smartphone! The Red Magic 3 has a fricken' fan inside… a tried and tested fricken' turbo fan! No more underclocking here sir!
While the 5000mAh battery might seem like icing on the cake, we'll have to do some testing to see just how much battery life that turbo fan eat up.
The display has had a major overhaul since the original and included a 90Hz refresh rate while jumping on the AMOLED band-wagon for rich HDR gaming.
Other gaming features include the Snapdragon 855 chipset, dual-front-firing speakers and those oh so sexy RGB gaming lights.
But wait! There's more.
How about two touch sensitive-triggers on the top of this beautiful all metal gaming beast. Yes, you can now drag'n'drop trigger overlay buttons onto your games.
Available Now
Display: Excellent (HDR 2340×1080 AMOLED 90Hz)
Performance: Epic (Fan Cooled Snapdragon 855 + Max 12GB LPDDR4X RAM)
Battery Life: Excellent (5000mAh + Fast Charge)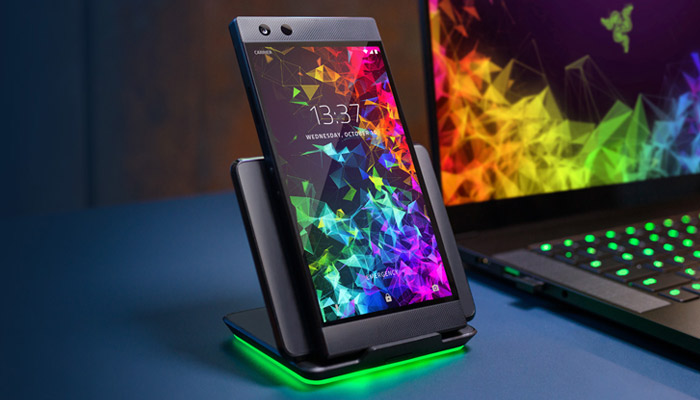 Razer Phone 2
Although similar in looks to the original 'King of Gaming Smartphones'… The Razer Phone 1, this successor takes it to the next level!
Moving with the times, it uses the latest Snapdragon 845 processor combined with 8GB's of RAM and new vapour-cooling internals that'll let you can get the most of the eight 2.8GHz cores.
The upgrades are coming in fast as the Razer Phone 2 now also has an IP67 waterproof rating, a Chroma RGB Razer Logo and a glass back for wireless charging.
It don't matter how sweaty your MOBA-bashing hands get, you can rinse off the Razer Phone 2 anytime! :D
It's uses the same 5.72″ IZGO 120Hz (1440×2560) UHD Display, but is now protected by Gorilla Glass 5 and promises a 50% higher max brightness than the Razer Phone 1.
The icing on the cake is the dual forward facing Dolby Atmos speakers that take your immersion to 11/10!
Available Now
Display: Epic (HDR 1440×2560 IZGO 120Hz)
Performance: Excellent (Vapour Cooled Snapdragon 845 + 8GB LPDDR4X RAM)
Battery Life: Excellent (4000mAh + Qualcomm Quickcharge+ + Wireless Charging)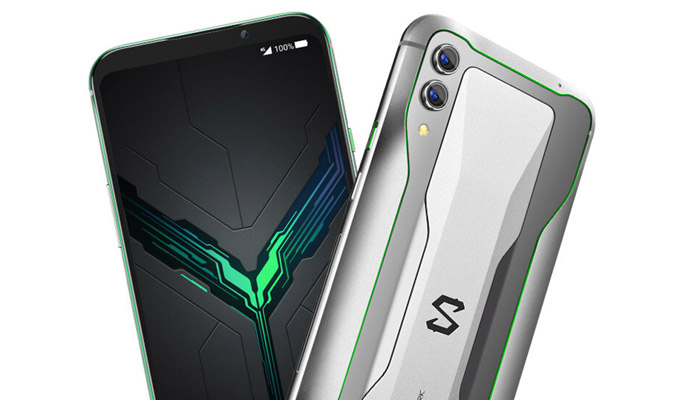 Xiaomi Black Shark 2

Xiaomi went back to the drawing board only months after the release of the Black Shark (below) to create the Black Shark 2.
The design is a little more understated, but believe me, everything else about this dedicated gaming smartphone has received a mighty upgrade!
To keep on par with the excellent Razor Phone 2 above, the Black Shark 2 now features dual forward firing speakers for immersive stereo sound. The display has also been upgraded to a HDR ready AMOLED panel that promises deep sea black levels and colours so punchy they'd win a Tekken match!
No gaming phone is complete without RGB lights, and the Black Shark 2 doesn't disapoint with it's glowing 'S' logo on the back. Add to this the dual X-2 antenna design, which guarantees signal no matter how sweaty your Fortnite loving palms might get!
The last gaming feature that we see, is the dedicated gaming button. It's nothing new, as most modern smartphones will cut background processes to improve your gaming performance. Xiaomi has just taken it a step further by dedicating a whole button to it.
Performance-wise, it's still top of the line with the Snapdragon 855 CPU, up to 12GB's of RAM and 256GB's of storage. It keeps the same liquid cooling tech as the original Black Shark, letting you keep those frame-rates high without any CPU throttling.
Available Now
Display: Excellent (AMOLED HDR 1080×2340)
Performance: Excellent (Liquid Cooled Snapdragon 855 + 12GB LPDDR4X RAM)
Battery Life: Excellent (4000mAh | 27w Fast Charge)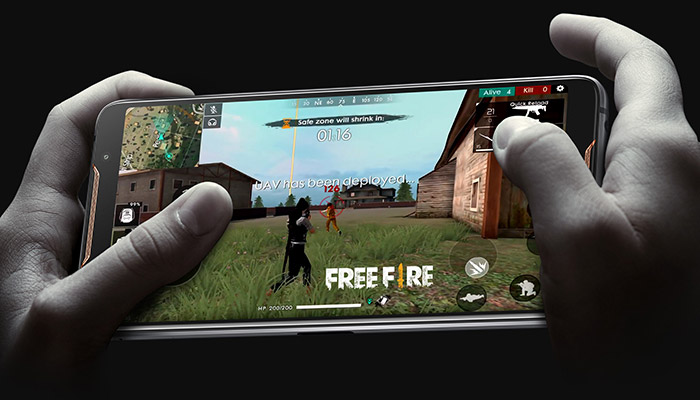 ASUS ROG Phone
The latest addition to the dedicating gaming smartphone lineup is the ASUS ROG Phone. Featuring the latest Snapdragon 845 processors, a 6″ AMOLED Full HD+ 90Hz (1ms response) Display that even comes with HDR support!
But wait, that isn't no ordinary Snapdragon 845. ASUS have worked closely with Qualcomm to get themselves an overclocked version of the 845 that clocks in at 2.96Ghz.
To get the most out of your mobile gaming it has two front-firing speakers that offer 24-bit high-res audio. You can also plug in your headphones for a virtual 7.1 surround sound experience.
One of the big problems mobile gamers come across after a long session is having to plug in unwieldy charging cables sticking out of the side of the phone.
ASUS have developed the AeroActive Cooler for the ROG Phone. It has two purposes: It helps to cool the phone during long gaming sessions and it also lets you point both your headphones and charging cable downwards.
Other optional extras are a PC Dock, a TwinView Dock that looks a bit like the 3DS and comes with a second built-in display and a pair of push on controllers for big screen gaming.
But you don't need all these fancy extensions, contraptions and additions as the ASUS Rog Phone has built-in AirTriggers. What the heck are AirTriggers?
Where you'd normally find the bumper buttons ASUS has built in ultrasonic sensors. Tap these areas and it'll act like a button and even give you haptic feedback!
Display: Excellent (2160×1920 AMOLED 90Hz)
Performance: Excellent (Overclocked Snapdragon 845 + 8GB LPDDR4X RAM)
Battery Life: Excellent (4000mAh)
Available Now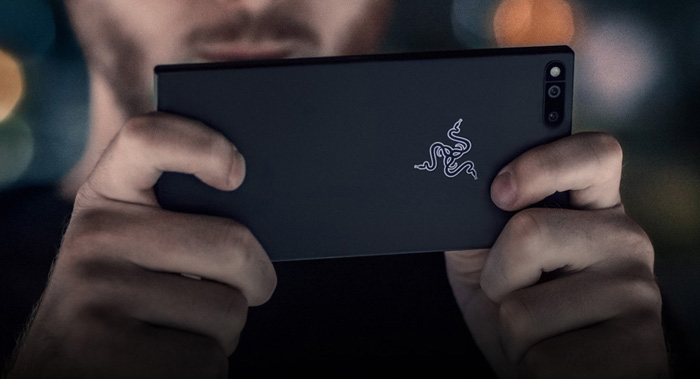 Razer Phone
From day 1, Razer has been on a mission to create high-end gaming solutions. Starting out with their Razer Edge gaming tablet in 2011, then moving on to high-powered gaming laptops.
It's their latest venture that we're interested in though… the Razer Phone.
Featuring dual-front firing Dolby Atmos enabled speakers, a 4000mAh battery and a 120Hz 5.7 inch Sharp IGZO display panel… it really is something else!
No stone is left unturned as Razer has also added WiFi AC standard to keep your connection super stable as well as including Qualcomm's Quick Charge 4.0 fast charging.
As a gamer… The Razer Phone is was the best option out there in terms of high-end features and gameplay experience.
Update: Now there's the even more epic Razer Phone 2 above!
Available Now
Display: Excellent
Performance: Excellent
Battery Life: Good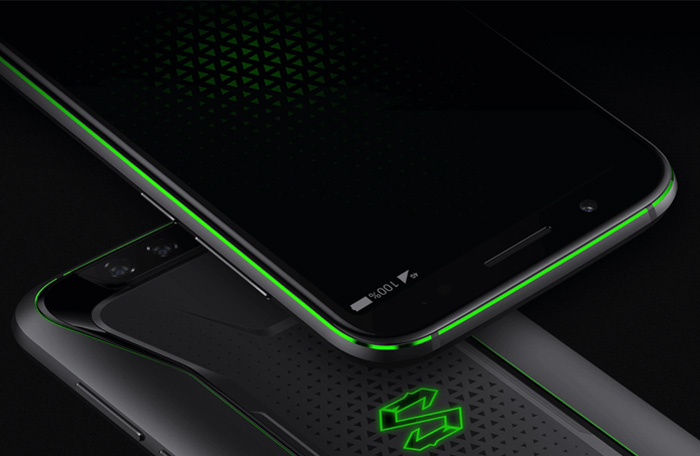 Xiaomi Black Shark
Xiaomi is everywhere, making literally everything in tech. So it's no surprise with China's mobile gaming market being the biggest in the world… that Xiaomi would help bring a gaming smartphone to the masses.
So what does the Black Shark bring to the gaming table?
It's running the latest Qualcomm Snapdragon 845, but it has a trick up its sleeve! To get the edge over other flagships running the same chip, Xiaomi has added liquid cooling to the Black Shark phone.
You heard me right… a technology once only found on high-end overclocked gaming rigs has now trickled down into a 5.99 inch smartphone.
Love Xiaomi? Never Heard of Xiaomi? Check out The Best Xiaomi Smartphones
Xiaomi claims this will lower peak performance temps by 8 degrees and give you up to 70% more time at full throttle… impressive.
It also features an independent image processing chip made by Pixelwork to improve the image quality in-game. This works by adding details to darker scenes and increasing gameplay smoothness.
While it may not feature the advanced front firing speakers of the Razer Phone above, its still rocking dual speakers plus comes with a dedicated gaming mic.
The 5.99 inch display has a bright 550 nit rating, 93% DCI-P3 Colour Gamut but only has a HD+ display (2160×1080) giving it a PPI of 403. No high frame-rate or high-Hz panel to be found here though.
It's a gaming smartphone you'll want to keep an eye on, but, unless Xiaomi has plans for an international version, it won't be widely available in Europe or the US.
Available Now

Display: Good
Performance: Excellent
Battery Life: Good
Nubia Red Magic
Oh hell yeah! The Red Magic gaming phone features an RGB strip down the back of the phone. #likefliestothelight the gamers will come!
Nubia put together the team for the Red Magic smartphone to jump on the booming mobile gaming market. Let's take a look at the specs.
Looking at performance, it's using last years flagship CPU, the Snapdragon 835 + Adreno 540 mobile graphics. To keep this chip pumping at full capacity, Nubia has implemented a three-layer three-grill cooling system as well as coating the inside of the Red Magic with heat absorbent material.
Backing this up is 128GB's of seriously fast UFS2.1 2-LANE Storage and 8GB of LPDDR4X RAM.
So what unique gaming features does the Nubia Red Magic have?
Apart from the advanced cooling, it features 2×2 Dual Antenna MIMO WiFi, Bluetooth 5 and support for DAC high-quality audio.
Looking at the Red Magic display… we find that the Razer Phone still has the top spot with that glorious 120Hz panel. The Red Magic uses a high-contrast HD+ 2160×1080 display using post processing to smooth frame-rates and enhance the picture.
Finally, one of the biggest things the Red Magic has going for it… is the price-tag. Pre-orders for the phone are starting at an early bird price of 399 USD / 280 GBP.
Available Now
Display: Good
Performance: Good
Battery Life: Good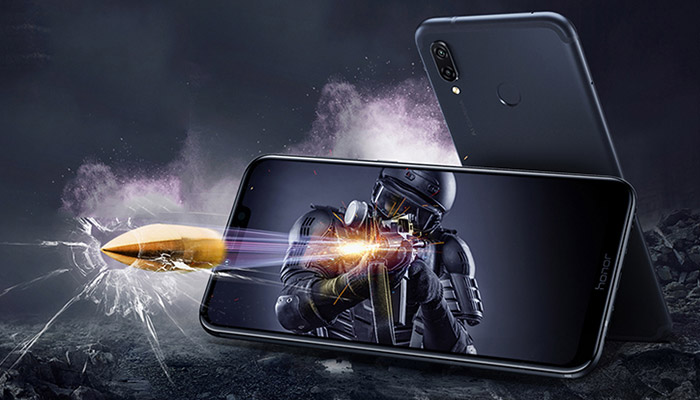 Huawei Honor Play
Huawei's sub-brand, Honor have been tinkering away at creating their own gamer-friendly smartphone, aptly names the Honor Play.
I uses a Super AMOLED 6.3″ display made by Samsung making it more of a phablet which is great for gaming. Battery life is also looking good with 3750mAh of juice to Play with…
It doesn't feature the high-end vapour cooling systems of the phones above but it does have use Huawei's own high-end Kirin 970 processor coupled with MP12 version of the ARM Mali-G72 GPU.
Honor says that they'll be able to push the G72 further to improve frame-rates and gaming experience.
This is a smartphone that's aimed at the Chinese market, so you'll want to make sure it supports your local network providers before getting too excited!
Update: Huawei Honor has now released the Honor Play for the international markets with full EU language support and cellular band support.
Display: Excellent
Performance: Excellent
Battery Life: Excellent
Tech Specs: 6.3″ Super AMOLED, 2340 x 1080, Gorilla Glass 5, Kirin 970, 4/6GB RAM, 64GB Storage, Quick Charge (4.0) 3750mAh battery, Android 8.1 with MIUI8.2 .
Connectivity: NFC, Bluetooth 4.2, Dual-band AC WiFi, 2x Nano SIM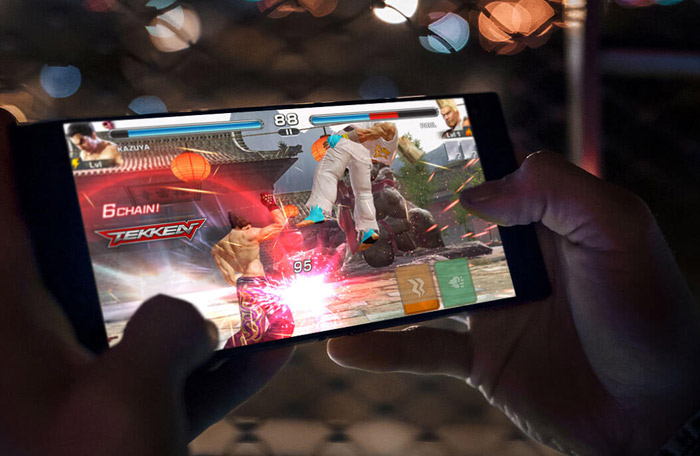 Should you buy a dedicated gaming smartphone?
It's a difficult decision… if you're like me then the mouthwatering specs and high Hertz displays are enough to make you think… I REALLY REALLY NEED THIS PHONE!
But put your thinking cap back on. With all new technology… there's a learning curve for game makers and developers. The amount of games that you can play at these high frame-rates is going to be limited to begin.
Another element to consider is how fast the mobile hardware market moves. Unless you're a serious game freak :D or have money to burn… it might be best to wait for the 2nd gen of gaming smartphones to be released.
Let the early adopters iron out the kinks for you…
Is it the right time to buy a dedicated gaming smartphone? Or should you wait a year or two? Let me know!